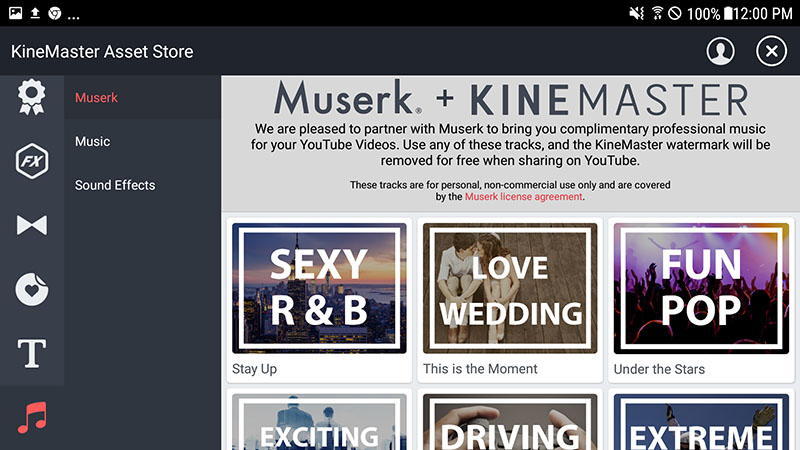 KineMaster Asset Store - Access the Muserk Selection on Android
The following section pertains only to KineMaster 4.2+ for Android.
KineMaster has partnered with Muserk to give you a free way to remove the "Made with KineMaster" watermark from your video while at the same time getting quality music.
Just use any of the Muserk tracks available for free in the KineMaster Asset Store, and the "Made with KineMaster" watermark will be automatically removed from your video when sharing directly to YouTube.
Please keep in mind that these tracks are for personal, non-commercial use only.  For the full license information, see the Muserk License Agreement on the KineMaster web site.  A few things you should know (but read the whole agreement for details):
You can't monetize videos that use these tracks

We can monetize your videos automatically if you use these tracks (in other words, some of your viewers might see ads on your channel)

In order for the watermark to be removed, the music must be clearly audible in the background for most of the video.
In order to take full advantage of using music from Muserk, follow the steps below.
Create a new project, or open an existing project as normal.

Tap

Asset Store

,

Music

, then select any of the tracks under the category Muserk and tap

Download

.

When installed, the selected Muserk tracks will be available in the

Audio Browser

under

Music Assets

. Add a Muserk track to your project as normal.

Tap

Confirm

to leave the

Audio Browser

and continue to edit your project as normal.  Note that for the watermark removal to work, the music must be at an audible volume throughout a substantial portion of your video; trimming the music too much or reducing the volume too much may cause the watermark removal to fail.

When finished editing your project, tap

Share

and then

YouTube

to export your project to YouTube.

Tap

Agree and Continue

to continue.

Select the desired export quality. When the export has completed, the YouTube dialogue will appear. Entered the required information and then tap

Upload

.

Note that the watermark has been removed! Enjoy your watermark-free video and high quality audio!