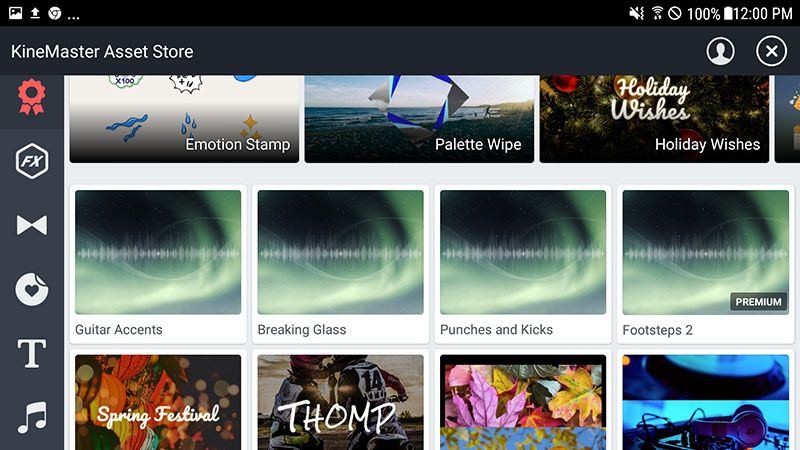 KineMaster Asset Store Screen
The KineMaster Asset Store provides access to additional content for KineMaster. It is divided into 6 categories: Featured Items, Effects, Transitions, Overlays, Fonts, and Audio. Each category has both free and premium content. Premium content is only accessible to KineMaster Subscribers.
Featured Items displays the featured content from all other categories on the KineMaster Asset Store.
Effects can be applied to items on the timeline to affect the position or style of content in the layer.
Transitions can be applied between two items on the Primary Timeline. Note that only devices with video layer support may use transitions.
Overlays include still stickers and animated overlays. Stickers are images that can be placed in a layer. Animated overlays are, of course, animated.
Fonts for languages based on the Latin alphabet (such as English, French, German, Spanish, and so on) are divided into sans-serif, serif, display, and handwriting groups. Sans-serif and serif fonts are good general purpose fonts for lots of text, but can also be used for headings. Display fonts (which may actually contain fonts with serifs) are generally not as good for long paragraphs of text but may be good for headings, titles, or decorative use. Other languages are organized by language. The KineMaster Asset Store currently contains extra fonts for the following writing scripts/ languages: Arabic, Chinese (Simplified), Chinese (Traditional), Devanagari, Japanese, Khmer, Korean, and Thai.

Audio is divided into music and sound effects. On Android, there is an additional category called Muserk. If Muserk music is used in a video that is uploaded directly to YouTube, the watermark will be removed for free. More details can be found online at the following address: https://support.kinemaster.com/hc/en-us/articles/115000102902-Muserk-KineMaster.