Create and Share a Video Project
Tap  to create a project.
Tap .
Enter a name for the project.
Tap on videos and images in the media browser to add them to the project, then tap Next.   
Tap on a theme to choose it and tap Next. 
Enter text titles to appear in the project and tap Next.
Tap to choose music then tap Next.
To save or share the edited video, tap  while editing.
Tap to choose where the video project will be shared.
Once a project is exported and shared, KineMaster will return to the page where the project was shared. (To erase the watermark from an edited video, please choose a subscription option).
Exported videos can be found in the device's "export" folder (in KineMaster/Export/).
For Existing Users
When KineMaster first opens, existing projects are now displayed in a list that can be scrolled up and down.
The list is arranged with the most recently edited projects at the top; to sort the list alphabetically, as it was in earlier KineMaster versions, you can change the sorting order in settings.
To play 

, share 

, edit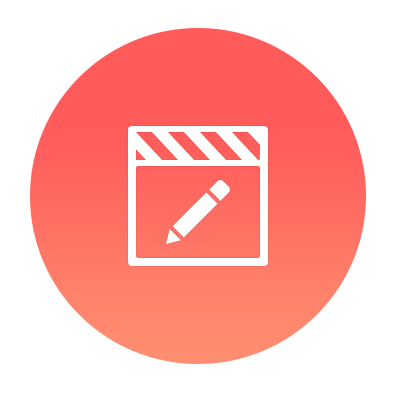 , or delete 

 a project, tap the project thumbnail to open the project details and options.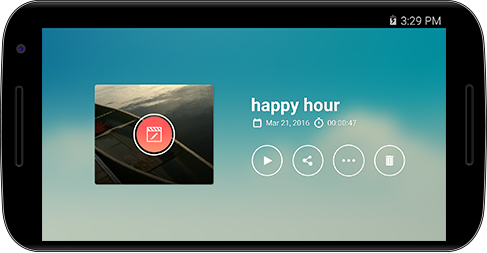 When editing a project, buttons to undo 

 or redo 

 edits, and change the theme

 now appear to the left of the video preview screen.

 is also available so that projects can now be shared directly as soon as editing is finished.
Tap

 to change project settings.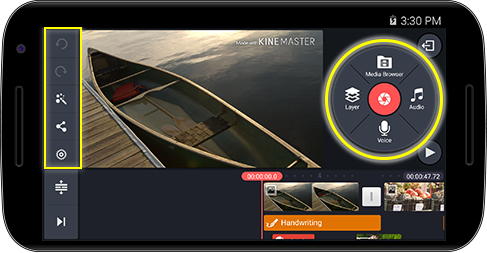 To the right of video preview, buttons for adding media

 and audio

 are still available, but narration can now be recorded directly with Voice

. Tap

 to take pictures with the camera or record new video with the camcorder.
To add a sticker or handwriting to a project now, add a layer to the project by tapping

.
The timeline can be expanded by tapping

 rather than swiping up, and

 jumps the playhead to the start of the project now.
To delete a clip now, tap it and then tap

 to the left of the video preview.
Tapping a clip still displays effect editing options but they appear as an extended list to the right of the video preview.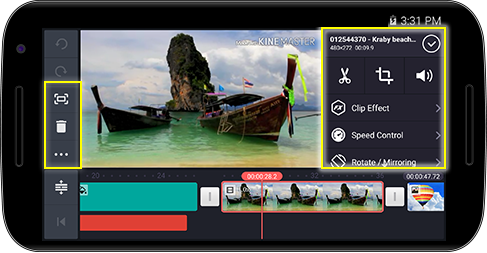 To capture a frame from a clip as an image, tap

 on the left for capture options but to split and insert a freeze frame now, open the Trim/Split menu on the right. Share a project directly from the editing screen now, as well as from the project details, by tapping

 . Select the sharing destination first and then choose the quality level. Choose a subscription if desired after selecting where to share.